Yesterday, USDA's Economic Research Service (ERS) released its monthly Livestock, Dairy, and Poultry Outlook, which included updated information regarding U.S. pork exports.  Illinois is a leading pork producing State.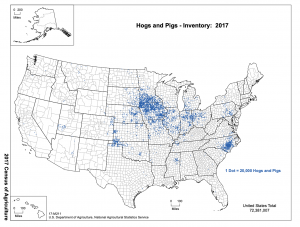 In part, the ERS update stated that, "Since early April, COVID-19 infections have reduced laborforces in several U.S. pork processing facilities, causing plant throughput to slow and some plants to temporarily shut down. USDA\AMS data below shows that from April 6 through April 30, the U.S. pork processing industry operated at about 78 percent of its normal capacity."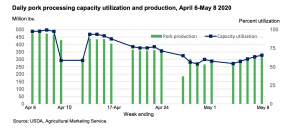 "Due to constrained processing capacity, both estimated federally inspected April hog slaughter and pork production fell more than 11 percent below a year ago. Early-May capacity utilization data suggests a nascent rebound. At 60.3 percent, the AMS\USDA utilization rate data for the week ending May 8 was slightly higher than that of a week earlier—the week ending May 1, when the capacity utilization rate averaged 58.5 percent."
Turing to exports, The Outlook explained that, "Pork exports in March were the highest on record, at almost 702 million pounds.
Shipments to China- Hong Kong dominated the total at 196 million pounds, more than 3 times the volume of a year earlier, but exports to Mexico—at 140 million pounds, 9.5 percent higher than a year ago, and to Japan, at 114 million pounds, more than 18 percent ahead of March 2019—also accelerated the total to achieve the record high.
"March exports to the 10 largest foreign destinations are summarized in the table below. These 10 markets accounted for 94 percent of exports in March."
In addition, ERS indicated that, "Record-high first-quarter January-March pork exports are summarized in the table below.
"For the period, exports summed to over 2 billion pounds, almost 40 percent above a year ago.
It is notable that the 2020 first-quarter export volume is just shy of the annual pork export total for 2004: total pork exports for 2004 were 2.18 billion pounds, just 157 million pounds above first-quarter exports this year.
"What also distinguishes first-quarter exports is that they accounted for 27.2 percent of commercial pork production; this trade share is record-high."
Yesterday's update stated that, "First-quarter shipments to both Mexico (435 million pounds, up more than 12 percent year over year )   and Japan (322 million pounds, up almost 12 percent from a year earlier) would have been especially notable had it not been for China\Hong Kong exports, totaling over half-a-billion pounds. Exports to China\Hong Kong so far this year are more than 5 times larger than shipments during the same period last year, accounting for almost 30 percent of first-quarter U.S. exports.
"China's import demand for pork is being driven by African Swine Fever (ASF)—first diagnosed in China in August 2018—which continues to constrain Chinese pork production."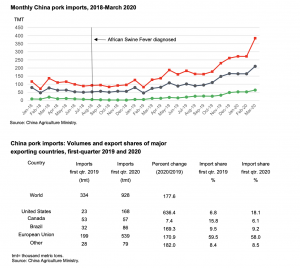 The Outlook also noted that, "The evolution of China's pork imports since 2018, as well China's first-quarter import data, suggest that while pork from the European Union continues to hold a dominant share, recent relaxation of retaliatory measures on U.S. pork by the Government of China have contributed to increases in the U.S. share of first-quarter Chinese imports. The U.S. share increased to just over 18 percent, from about 7 percent a year earlier."
Looking ahead, ERS pointed out that, "The economic effects of the COVID-19 virus are likely to have negative implications for U.S. pork exports in 2020. The impacts of the virus would derive from both the supply and demand sides: to lowered U.S. pork production and slower world economic growth leading to lower consumer incomes and weaker currencies, respectively. The negative effects of the virus are expected to be felt most acutely in the second half of 2020. Consequently, the third-quarter export forecast was lowered 100 million pounds to 1.6 billion pounds, almost 6 percent above same-period shipments in 2019. Fourth- quarter exports are expected to be 1.875 billion pounds, almost 3 percent above the same period last year."
And Reuters writers Hallie Gu and Dominique Patton reported yesterday that, "New Hope Group, one of China's biggest pig breeders, expects the country's hog output to recover from last year's disease epidemic by 2021, while prices will start to fall after a rush of new entrants into pig farming, chairman Liu Yonghao said on Monday.
The fatal pig disease African swine fever reduced China's huge hog herd by around half last year, but the government has offered incentives to farmers to spur a recovery.
"Liu said prices for pork, China's favourite meat, will remain relatively high this year, but could fall below production costs in the coming years as new players, including real estate and internet companies, turn to farming."
Source: Keith Good, Farm Policy News