a Despite Chinese tariffs on U.S. pork, dynamics associated with the African Swine Fever (ASF) outbreak have created market opportunities for pork exports to China.  In addition, Chinese beef imports surged in June, also due to changing protein demand spurred by the impacts of ASF.  Separately, news this week documented that U.S. cotton exports to China have fallen, along with domestic prices, while stocks climb.  And news on Tuesday indicated that senior U.S. officials are planning to travel to China next week to continue trade negotiations in person.
U.S. Pork Exports to China, African Swine Fever Impacting Demand
On Monday, 
Reuters writers Tom Polansek and Nigel Hunt
 reported that, "It might seem an unlikely time for U.S. farmers to look to China for more business 
but the devastating impact of African swine fever on the Chinese pork industry is trumping concerns about trade wars and tariffs
. "Experts estimate 
the disease will wipe out about a third of China's pork production this year
, or 18 million tonnes. That's twice the amount of pork exported worldwide every year and enough to feed U.S. consumers for almost two years.
The U.S. trade war with China initially forced U.S. pork exporters to scour the world for new markets but as the swine fever crisis deepens they're gearing up for new opportunities to supply the Chinese market later this year and next.
Polansek and Hunt noted that, "The catch for U.S. hog farmers is that if they want to take advantage of the surge in Chinese pork demand, 
they can't feed their pigs with the growth drug ractopamine
 which is widely used in the United States but 
banned
 in China." "Citing competitive reasons, 
Tyson
 declined to comment on whether it pays farmers more for pigs raised without the feed additive or if it was offering premiums. The company told Reuters it was looking at diversifying its pork supply to include ractopamine-free hogs as demand expands," the article said. Monday's update added that, "Rival U.S. pork producer 
Smithfield Foods
, which is owned by China's WH Group , already raises all of the hogs on its company-owned and contract farms 
without the drug
." Also Monday, 
Wall Street Journal writer Nathaniel Taplin
 reported that, "China's food fight with the U.S. is getting 
costly at home
. That doesn't mean a resolution to overall trade tensions is near, 
but it could help keep further escalation in check
."
"China Backs Away From U.S. Food Fight," by Nathaniel Taplin. The Wall Street Journal Online (July 22, 2019). The Journal article stated that, "
U.S. imports would help
 calm 
Chinese food price inflation
, which has long been a political issue in the People's Republic. 
The latest jump in pork prices—up around 20% on the year—is the last thing Beijing needs right now
, with incomes already under pressure from the weak labor market. An African swine-fever epidemic has decimated China's hog population in recent months." "Pork price inflation in China has gotten so bad that Chinese importers appear to have started 
buying the meat from the U.S.
 even with big tariffs already in place. 
U.S. pork exports to China in May more than doubled on the year to $34 million
, according to U.S. International Trade Commission data, reversing the falling trend earlier in 2019.
Punishing U.S. farmers is all very well from Beijing's perspective. Alienating Chinese consumers and importers who end up paying tariffs anyway is another matter.
And on Tuesday, 
Reuters writers Hallie Gu and Shivani Singh
 reported that, "
China's pork imports in June surged from the previous year
, customs data showed on Tuesday, as the world's top consumer of the meat stocked up on supplies after 
African swine fever has decimated
 domestic pig herds. "China brought in 160,467 tonnes of pork in June, 
up 62.8%
 from the same month last year, according to data from the General Administration of Customs. This was down 14% from 187,459 tonnes imported in May." "China's pork imports for the first six months of the year came in at 818,703 tonnes, 
up 26.3% from a year earlier
."
Chinese Beef Imports Surge, Also Due to African Swine Fever
Bloomberg News
 reported on Monday that, "
Beef imports by China
, the world's top meat consumer, 
jumped to an all-time high in June
 as the spread of African swine fever throughout the country boosts demand for alternative sources of animal protein."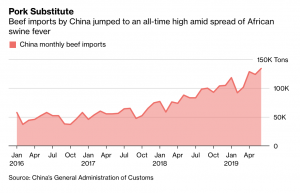 "China's Beef Imports Hit Record as Deadly Swine Fever Spreads." Bloomberg News (July 22, 2019). The Bloomberg article explained that, "Beef imports are climbing because the deadly virus is driving up pork prices and prompting people to change diets on concerns over safety, even though there's no evidence that it hurts humans." However, the article noted that, "
Australia is the big winner
. Chinese demand helped lift beef exports to 1.16 million tons in the year to June 30, according to Meat & Livestock Australia. Shipments to China jumped 55% to 206,306 tons." "
China's purchases of South American beef are rising too
," the article said.
Chinese Tariffs Impacting U.S. Cotton Producers
Kris Maher
 reported this week at The Wall Street Journal Online that, "When cotton farmers meet at the Aubrey Country Store & Grill, a lunch spot surrounded by farmland in the Mississippi Delta, 
the talk inevitably turns to global trade these days
.
Cotton exports to China have tumbled, and the domestic price for the crop has fallen roughly 30% since China slapped retaliatory 25% tariffs on U.S. farm commodities last summer. Stockpiles of U.S. cotton are forecast to be the highest in a decade.
"'If China decided it was going to start buying some cotton it would be a 
game changer
,' said Ramey Stiles, a 60-year-old cotton farmer who lives in nearby Marianna, Ark., in Lee County, an hour southwest of Memphis, Tenn."

Donald J. Trump✔@realDonaldTrump
Farmers are starting to do great again, after 15 years of a downward spiral. The 16 Billion Dollar China "replacement" money didn't exactly hurt!
6:54 AM – Jul 23, 2019
The Journal article indicated that, "Farmers have been promised some help in a $16 billion package of aid to protect them from the impact of the trade dispute, but cotton growers don't know how much aid they will get."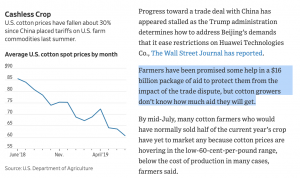 "On the Cotton Farm: Stockpiling and Fearing Big Losses From Trade Fight," by Kris Maher. The Wall Street Journal (July 22, 2019). Monday's article also noted that, "Farmers who said they voted for President Trump remain supportive. They back his decision to place tariffs on a range of Chinese products, 
but if there isn't a deal this year many won't survive, they said
."
U.S. Officials Head to China
Bloomberg writers Shawn Donnan and Jenny Leonard
 reported on Tuesday that, "U.S. Trade Representative 
Robert Lighthizer
 and senior U.S. officials are 
set to travel to China next Monday
 for the first high-level, face-to-face trade negotiations between the world's two biggest economies since talks broke down in May. "Lighthizer and a small team will be in Shanghai through Wednesday, according to people familiar with the plans who asked not to be identified. The meeting will involve a broad discussion of the issues outstanding and 
isn't expected to yield major breakthroughs
, a senior administration official said." The Bloomberg article added that, "U.S. officials have 
played down the likelihood of a quick deal with China
. "'It is impossible to judge how long it will take when the president's objective is to get a proper deal 
or
 go ahead with tariffs,' Secretary of Commerce 
Wilbur Ross
 told Bloomberg TV on Tuesday. 'It is not important whether it be done a week from Tuesday or a month or two months.'

Farm Policy@FarmPolicy
.
@BloombergTV
Video: Sec. Ross `Not Aware'
#China
Has Opened Gate to U.S.
#Agricultural
Imports
https://bloom.bg/2MdceFr Sec. Ross `Not Aware' China Has Opened Gate to U.S. Agricultural ImportsU.S. Commerce Secretary Wilbur Ross discusses trade with China and the debt ceiling on "Balance of Power." (Source: Bloomberg)bloomberg.com
1
6:50 PM – Jul 23, 2019
"The sides remain at odds over significant issues like Washington's demands for structural reforms to China's economy and Beijing's call for the U.S. to remove existing punitive tariffs on imported Chinese goods." And 
Adam Behsudi
 reported on Tuesday at Politico that, "White House senior economic adviser 
Larry Kudlow
 said Tuesday the administration 
hopes China will begin 'very soon' to make significant purchases of U.S. agricultural goods as a goodwill gesture — and ultimately as part of a final trade deal
. "'I'm going to play that on the optimistic side. Going over there is a very good sign,' Kudlow told reporters. He confirmed that a senior U.S. official will travel to China for the first face-to-face meeting of top negotiators since President Donald Trump and Chinese President Xi Jinping agreed late last month to restart trade talks that had stalled in May." "'As you all know, there has been a 20-million-metric-ton commitment on soybeans. I think the latest numbers I saw this week, I think we were up to 13.67 [million], if I recall directly,' he told reporters Tuesday. 'So they still have a ways to go, and that's what the president is reminding them of as well,'" the article said.
Source: Keith Good,
Farm Policy News