Bloomberg News reported on Wednesday that, "U.S. and Chinese negotiators plan to discuss progress of their trade deal in the coming days, with Beijing pushing to widen the agenda to include Washington's recent crackdown on businesses including TikTok and WeChat.
"A virtual meeting will likely take place as soon as this week though a date hasn't been finalized, according to people familiar with preparations for the talks who asked not to be named. President Donald Trump's chief economic adviser on Tuesday downplayed concerns the phase-one agreement will fall apart."
The Bloomberg article pointed out that, "Almost seven months after a White House signing ceremony paused a tariff war that had roiled the global economy, Beijing's pledged purchases of U.S. goods are far behind schedule. The coronavirus crisis and the deterioration in U.S.-China relations on everything from tech security to Hong Kong has left trade a rare area of cooperation."
Wednesday's article also noted that,
Scott Kennedy, a China expert at the Center for Strategic and International Studies in Washington, told Bloomberg Television this week that 'it's amazing that despite the storm that is now the U.S.-China relationship, neither Trump or Xi Jinping really want to junk the phase-one deal.'
"'For Trump, in a word, it's about farmers — the sales that they can make for red states in this election,' Kennedy said, referring to rural strongholds for Republicans. For Chinese President Xi, 'it's about stability and keeping the relationship from entirely collapsing,' he said."
Meanwhile, Reuters writers Jeff Mason and Andrea Shalal reported this week that, "China is continuing to buy U.S. goods, particularly commodities, under its Phase 1 trade deal with the United States, despite rising tensions over Hong Kong and other issues, top White House economic adviser Larry Kudlow said on Tuesday.
"Asked if deteriorating ties between the world's two largest economies on other fronts could result in the trade deal being thrown out the window, Kudlow said, 'No, no.'
'The one area we are engaging is trade,' he told reporters at the White House. 'It's fine right now.'
The Reuters article stated that, "'The evidence shows … they've stepped up substantially' on purchases of U.S. goods, Kudlow said, citing what he called 'really good numbers,' particularly on commodities.
"China has increased its purchases of U.S. soybeans recently, but it remains far short of the overall target for 2020. The United States exported just $7.274 billion in agricultural goods to China in the first half of the year, well below the $36.5 billion agreed under the trade deal."
Nonetheless, Bloomberg writers Isis Almeida and Tatiana Freitas reported this week that, "China, the world's top soybean buyer, is ditching expensive Brazilian purchases and replacing previously done deals with American supplies, according to people familiar with the transactions."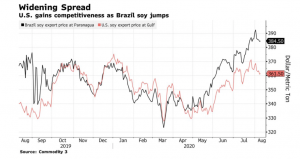 "Brazilian soybean prices have surged as supplies dried up. At the same time, the American harvest is just around the corner and traders are expecting a bumper crop," the Bloomberg writers said.
Almeida and Freitas added that, "The move could help China accelerate progress toward meeting its pledges under the phase-one trade deal with the U.S. ahead of an Aug. 15 meeting between Washington and Beijing. In the first half of the year, the U.S. shipped about $7.3 billion in agricultural goods to China, only 20% of the $36.5 billion goal, USDA data showed."
In other trade developments, Reuters writer Dominique Patton reported this week that, "China's WH Group expects pork exports from the United States to China to fall in the second half, Chief Financial Officer Guo Lijun said on Tuesday, as the coronavirus pandemic hit volumes being handled at U.S. processing plants and pushed up prices.
"China's pork imports have surged in the first half, with arrivals from the United States especially high."
Source: Keith Good, Farm Policy News