Bloomberg News reported this week that, "China is considering making some purchases of U.S. agricultural goods by early March as a way to show it's still committed to its phase one trade deal, according to people familiar with the matter.
"The government is in discussion over what commodities it could potentially buy at the end of February or early March, said the people, who asked not to be identified because the information is private. While no final decision has been made, the purchases would show China plans to stick to the U.S. trade deal that came into effect last week, despite the spread of coronavirus, the people said."
While Beijing may buy some farm goods in the next few weeks to show its commitment to the deal, the virus will probably disrupt the schedule for its purchases this year, especially in the first quarter, when some shipments may be delayed, according to the people. It will seek to make up for the delayed purchases later in the year assuming the virus is controlled, the people said.
Also this week, Reuters writers Stella Qiu and Se Young Lee reported that, "China will grant exemptions on retaliatory duties imposed against 696 U.S. goods, the most substantial tariff relief to be offered so far, as Beijing seeks to fulfill commitments made in its interim trade deal with the United States.
"Tuesday's announcement comes after the Phase 1 trade deal between the two countries took effect on Feb. 14 and is the third round of tariff exemptions China has offered on U.S. goods."
U.S. goods eligible for tariff exemptions include key agricultural and energy products such as pork, beef, soybeans, liquefied natural gas and crude oil, which were subject to extra tariffs imposed during the escalation of the bilateral trade dispute.
The Reuters article reminded readers that, "White House adviser Larry Kudlow said earlier this month that Chinese President Xi Jinping told U.S. President Donald Trump during a recent call that China will still meet its Phase 1 trade deal purchasing targets."
China reporting nearly 1,900 new cases of #coronavirus. @onlyyoontv has the latest details on the epidemic and why the numbers from over the weekend may be a positive sign:
Bloomberg News pointed out this week that, "Tuesday's announcement of commodities eligible for waivers was further evidence that Beijing wants to clear the path to more U.S. imports. It has already been issuing tariff waivers on an ad hoc basis for U.S. farm products, including soybeans, but this is the first time it has expanded the exemptions to include energy products, such as LNG and crude."
Meanwhile, Iowa State University (ISU) Extension Economist Wendong Zhang pointed out in a publication this month ("US-China Phase 1 Trade Deal and US agriculture: A big win for farmers or too good to be true?") that, "The highly anticipated US-China Phase 1 Trade Deal represents a long-awaited relief for US farmers. China made bold promises of an additional $32 billion in purchases of US agricultural products over the next two years; however, commodities markets are still cautious regarding the successful delivery of these promises. I think with diversions from other suppliers and dramatic increases of US meat products, ethanol, and consumer-oriented products, China has the capability to at least be compliant with the 2020 target. Given the new challenges posed by the ongoing coronavirus epidemic, the commodities markets are anxiously waiting to see when and whether the promised Chinese purchase sprees will materialize."
Coronavirus- Broader Impacts on Trade
With respect to some of the broader impacts of the ongoing Coronavirus outbreak, Reuters writer P.J. Huffstutter reported last week that, "Ships carrying refrigerated cargo containers of chicken from the United States to China are being diverted to ports in Hong Kong, South Korea, Taiwan and Vietnam due to the coronavirus outbreak, according to a U.S. poultry export trade group."
"The delays come as China was poised to increase U.S. beef and poultry imports after the Phase 1 trade deal announced last month," the Reuters article said.
In addition, Bloomberg News reported on Monday that, "Thousands of containers of frozen pork, chicken and beef are piling up at some major Chinese ports as transport disruptions and labor shortages slow operations, people familiar with the matter said.
"Deliveries are mounting at ports including Tianjin, Shanghai and Ningbo because there aren't enough truck drivers to collect containers due to travel curbs imposed in the country to control the coronavirus, said the people, who asked not to be identified because they're not authorized to speak publicly."
Meanwhile, Reuters writer Dominique Patton reported this week that, "China has approved the import of all poultry products from the United States, the Ministry of Agriculture and Rural Affairs said on its website on Monday, including breeding birds in addition to poultry meat approved late last year."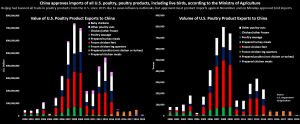 And in a related article, Financial Times writer Sun Yu reported this week that, "China is to begin importing live chickens from the US as feed shortages due to the coronavirus force poultry farms in the world's second-biggest economy to start culling millions of young birds.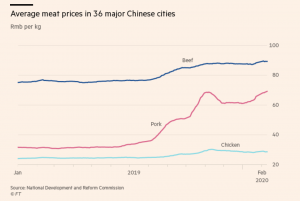 "The culling of poultry follows the mass slaughter of pigs in China due to African swine fever over the past year and threatens to worsen a protein shortage in the country that has sparked rising inflation and soaring meat prices."
Source: Keith Good, Farmdocdaily