Last week, the USDA's Foreign Agricultural Service (FAS) released its "2019 U.S. Agricultural Export Yearbook," that provided "a statistical summary of U.S. agricultural commodity exports to the world and the United States' primary trading partners."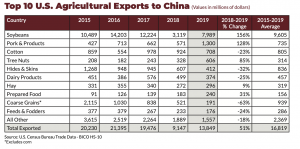 With respect to China, the update indicated that, "In 2019, U.S. agricultural exports to China totaled $13.8 billion, up from $9.1 billion in 2018. China was the third largest market for U.S. agricultural exports."
During 2019, the largest export increases were seen in soybeans and pork and pork products, up $4.9 billion and $729 million, respectively.
The FAS update explained that, "China's expedience and efficacy in removing structural barriers to U.S. agricultural products and its willingness to lower or waive import tariffs will drive China's progress towards meeting its food and agricultural purchase commitments, valued at roughly $80 billion over the next two years.
"At the same time, various human, animal, and plant diseases and pests will each impact Chinese demand for food and agricultural products and thereby affect U.S. agricultural export prospects in 2020. The outbreak of COVID-19 and subsequent disease mitigation measures creates substantial uncertainty for the Chinese and global economies. Disruptions to the free movement of people and goods limit Chinese port and internal logistics capacity and hamper the ability of U.S. producers to market their products in China.
"China's on-going battle against African Swine Fever is expected to keep China's pork prices at record highs and drive demand for imports. Similarly, in early 2020, China reported several outbreaks of highly pathogenic avian influenza. These diseases continue to add uncertainty and to impact China's meat and poultry prices and demand unevenly, while also affecting the livestock industry's demand for U.S. animal feed ingredients, such as soybeans. At the same time, China faces a fast-spreading plant pest problem as fall armyworm, predominantly a corn pest, reaches farms across the country. China's response to this plant pest will impact grain supply, demand, and trade."
While discussing U.S. soybean exports, FAS stated that, "In 2019, the value of U.S. soybean exports to the world reached $18.7 billion, up 9 percent in value from the prior year and up 13 percent in volume. A substantial increase in exports to China offset declining exports to other major markets. However, U.S. exports to China were still 3 million metric tons below 2017 levels. Despite year- on-year export growth in 2019, the total value of U.S. soybean exports was 14 percent below the 5-year average of 2013-2017."
"U.S. soybean exports are forecast up for the marketing year ending in September 2020 (MY 2019/20)," the FAS update said.
"U.S. exporters will likely see increased demand from China, where total imports are forecast 6 percent higher by volume over this period. However, Chinese demand will depend on expansion in China's livestock and poultry production with the swine sector still hampered by recovery from African Swine Fever. U.S. sales to China will depend on the availability of exemptions from Chinese tariffs and its compliance with the Phase One trade agreement. The United States will see increased competition from Brazil which is forecast to produce a record quantity of soybeans in MY 2019/20."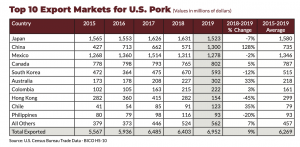 Regarding U.S. pork exports, FAS pointed out that, "In 2019, the value of U.S. pork and pork product exports to the world reached a record $7.0 billion, up 9 percent from the prior year…[and]…exports to China more than doubled as production impacts from ASF buoyed demand for imported pork."
"Despite retaliatory tariffs, U.S. pork is expected to make major gains to China, buoyed by implementation of the Phase One Agreement although impacts from coronavirus remain a risk factor," the FAS update said.
More specifically on U.S. pork exports, an update earlier this month from USDA's Economic Research Service ("Livestock, Dairy, and Poultry Outlook") stated that, "U.S. pork exports in May were about 618 million pounds, almost 21 percent higher than a year earlier.
May exports to China\Hong Kong dwarfed shipments to other countries.
"The table below—with the 10 largest destinations for U.S.-exported pork in May—shows that shipments to China\Hong Kong offset the year-over-year lower shipments to all other large markets. Only shipments to the Dominican Republic—and those to China\Hong Kong—were year-over-year higher in May, likely due to COVID- 19-related processing sector turmoil. It is notable that China\Hong Kong accounted for more than 40 percent of U.S. exports in May—compared to 12 percent a year ago—which amounts to about 14 percent of May 2020 U.S. commercial pork production.
The report noted that, "On the strength of May trade data, the 2020 and 2021 forecasts for U.S. pork exports were revised upwards by 325 million pounds and 350 million pounds, respectively. If realized, 2020 exports would be about 7.5 billion pounds, 19 percent higher than last year. Exports in 2021 would be 7.65 billion pounds, almost 2 percent higher than forecast exports in 2020."
U.S., China Agricultural Trade- Highlights from Business News Articles
Recent business news articles have also discussed some recent U.S., China agricultural trade issues.
Reuters writers Hallie Gu, Pei Li, Dominique Patton and Shivani Singh reported this week that, "China's soybean imports in June from top supplier Brazil soared to a record high, according to customs data released on Sunday, driven by growing demand for soybeans as China's pig herd recovers after deadly outbreaks of African swine fever.
"The world's top soybean buyer brought in 10.51 million tonnes of the oilseed from the South American country in June, up 91% from 5.5 million tonnes in the previous year, data from the General Administration of Customs showed. The June figures were also up 18.6% from May imports from Brazil at 8.86 million tonnes."
The Reuters article noted that, "China's overall soybean imports in June were a record 11.16 million tonnes as Chinese processors also made the most of lower Brazilian prices as better weather facilitated exports.
"China brought in 267,553 tonnes of soybeans from the United States in June, down 56.5% from 614,805 tonnes in the previous year. Imports fell 45.6% from 491,697 tonnes in May."
Nonetheless, the Reuters article stated that, "China has stepped up purchases of U.S. farm produce including soybeans, and will need to ramp up purchases dramatically to fulfill its pledge under a phase 1 trade deal the two sides signed in January."
And Bloomberg News reported last week that, "China's monthly wheat imports jumped to the highest in almost seven years in June, official customs data showed Thursday, as the world's largest consumer of the grain seeks to increase food supplies amid the coronavirus pandemic and take advantage of cheap global prices."
The Bloomberg article added that, "Corn imports rose 23% on year to 880,000 tons, bringing shipments in first half to 3.7 million tons, up 17.6% on year, customs data showed."
And New York Times writers Keith Bradsher and Steven Lee Myers reported on Friday that, "So far, China has kept buying large quantities of American corn, wheat, sorghum and pork this summer, said Darin Friedrichs, an agricultural commodities specialist in the Shanghai office of INTL FCStone, a large Chicago trading firm. Less than two weeks ago, China made its largest single purchase ever of American corn, just four days after another major transaction."
On Saturday, New York Times writers Ana Swanson and Keith Bradsher reported that, "Agricultural imports from the United States have been especially strong this summer, with two of the three largest Chinese purchases ever of American grain occurring this month.
"On Thursday, Mr. Trump pointed to record-setting purchases of corn made by China. But, he added that 'the trade deal means less to me now than it did when I made it.'
"'Can you understand that? It just means much less to me,' the president said."
The Times article noted that, "For now, Mr. Trump and his trade advisers are mostly defending China's efforts to live up to the trade deal, saying China has been taking crucial steps to open its agricultural markets and financial system.
"'I don't think it's going away,' Jamieson L. Greer, a former chief of staff to the United States Trade Representative, who is now a partner at the law firm King & Spalding, said of the initial trade deal. 'The Chinese really needed it, and the administration has every incentive to keep it, too.'"
Source: Keith Good, Farm Policy News