Reuters writers Andrea Shalal and David Lawder reported this week that, "The United States and China have made progress in implementing the agriculture-related provisions of a Phase 1 trade deal that took effect on Feb. 14, the U.S. Department of Agriculture (USDA) and U.S. Trade Representative said on Tuesday.
"In a joint statement, they listed a number of steps taken that should help boost U.S. exports of beef, poultry and other farm products to China, and said U.S. food and agricultural products exports were benefiting from Chinese tariff relief."
The Reuters article noted that, "China has also recently increased buying of U.S. farm goods, including the country's first hard red winter wheat purchase since 2017 and its largest U.S. corn purchase since 2013.
"But imports of key products such as soybeans, the most valuable U.S. farm export, remain well below pre-trade war levels."
However, Reuters writers Hallie Gu and Shivani Singh reported this week that, "China's soybean imports from the United States in the first two months of the year rose sixfold from the same period last year, customs data showed on Wednesday, as cargoes booked during a trade truce between the countries arrived.
"China, the world's top importer of the oilseed, brought in 6.101 million tonnes of U.S. soybeans in January and February, up from 1.044 million tonnes in the same months in 2019, when shipments were still largely curbed because of the Sino-U.S. trade war.
"The imports were in line with China's shipments from the U.S. in December, which had surged to 3.09 million tonnes, 44 times the level a year ago."
The Reuters article stated that, "Shipments from Brazil in the first two months of the year came in at 5.14 million tonnes, down 26% from 6.916 million tonnes last year, according to the data from the General Administration of Customs.
"China's total soybean imports in the first two months of 2020 jumped 14.2% year-on-year to 13.51 million tonnes, according to customs data released on March 7."
And Bloomberg writer Isis Almeida reported on Tuesday that,
Cheap American corn is attracting prospective Chinese purchasers again less than a week after the Asian nation picked up the most supplies in almost seven years.
"Chinese buyers are inquiring about prices for American corn as well as sorghum, according to people familiar with the matter, who asked not to be identified because the information is private. The move comes as crashing U.S. prices make the yellow grain used in biofuel and animal feed more attractive, while the Chinese domestic market is seen staying strong.
"American corn prices have tumbled more than 10% from this month's high as the spread of the coronavirus leaves roads empty, hitting gasoline demand. That adds to an oil price war between giants Saudi Arabia and Russia that sent the crude market into total meltdown."
Also this week, Reuters writer Dominique Patton reported that, "China's pork imports in the first two months of 2020 surged 158% from a year earlier to 560,000 tonnes, customs data showed on Tuesday, as the world's top consumer brought in large supplies ahead of the Lunar New Year holiday in January."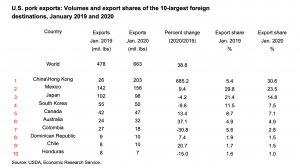 As changing demand flows emerge, logistical issues due to the world-wide impacts of COVID-19 have also garnered the attention of business news reporters recently.
Bloomberg writer Jen Skerritt reported last week that, "A shipping container shortage that's left everything from Thai curry to Canadian peas idling in ports may be about to get a whole lot worse as China steps up its coronavirus precautions on incoming vessels.
"Unloading holdups in China and delays on the return of vessels when the outbreak was largely limited to Asia have left shippers waiting for hundreds of thousands of containers to move their products. But as the disease goes global, the port of Fuzhou is starting to quarantine incoming ships from countries including the U.S. for 14 days. That threatens to exacerbate the crunch."
The article stated that, "The availability of cargo containers at Hamburg, Rotterdam and Antwerp in Europe and Long Beach and Los Angeles in the U.S. are at the lowest levels recorded, according to a Bloomberg report."
Ms. Skerritt added that, "U.S. pork exporters are also crimped by a tighter supply, though that's partly since they are moving record high volume to China, said Laurie Bryant, executive director of the Meat Importers Council of America."
Meanwhile, Bloomberg writers Millie Munshi, Megan Durisin, and Michael Hirtzer reported this week that, "Logistical hurdles stemming from the coronavirus pandemic are starting to pile up, hampering the flow of food that's otherwise plentiful in warehouses worldwide and boosting crop prices.
"Wheat futures capped the longest streak of gains since June on Monday, while prices for soybeans and coffee also climbed. In Asia, Thai rice export prices are trading at the highest since 2013.
"In Argentina, a union representing about 7,000 soybean crushers is threatening to strike over contagion fears, while port workers in agricultural giant Brazil were set to vote on a stoppage Monday before suspending the assembly at the last minute."
Soymeal futures rallied amid worries that a supply disruption from South America would hinder trade. Insights via @CMEGroup
More specifically, Bloomberg writer Jonathan Gilbert reported this week that, "The world's biggest exporters of soybean meal and oil are fending off a slew of logistical hurdles as they rush to get ready for the impending harvest in Argentina.
"For the Latin American nation's soy industry, it's the toughest start to a harvest in recent memory. Farmers and exporters are bidding to crush beans and ship tens of millions of metric tons of meal and oil at a time when the coronavirus pandemic is disrupting food-supply chains across the globe.
"Argentina is in a nationwide lockdown until the end of the month to prevent the spread of the Covid-19 virus. While farmers and crop exporters can continue to work, the stay-at-home order means everyone from trade-union leaders to town mayors is looking for assurances that exempt industries and workers are safe."
And Reuters News reported on Tuesday that, "The key Brazilian farm town of Canara has issued a decree aimed at curbing the spread of coronavirus that could disrupt grain export logistics and the operations of global agriculture commodities traders, according to a municipal order.
"The order dated March 22 bars shipping of grains out of the city in Mato Grosso state and comes as Mayor Fábio de Faria enforces a lockdown of all non-essential services to protect the population against the spread of coronavirus. In a separate document seen by Reuters, Faria has proposed to grain traders like Cargill and Louis Dreyfus a 10-day grace period to comply with the order."
Source: Keith Good, Farm Policy News