a
Shutdown Background
Last week, Bloomberg writers Erik Wasson and Laurence Arnold explained that, "The U.S. government runs on 12 appropriations bills passed each year by Congress and signed by the president. In fiscal years like this one, when all 12 bills aren't adopted by the Oct. 1 start of the fiscal year (only five were completed on time), Congress and the president keep the machinery of government humming by passing short-term extensions. They followed that process this time, but then Trump demanded that any further extension include $5.7 billion for his border wall."
What You Need to Know as the U.S. Government Shutdown Nears a Record," by Erik Wasson and Laurence Arnold. Bloomberg News (January 10, 2019).
Kristina Peterson, Michael C. Bender and Rebecca Ballhaus reported in Saturday's Wall Street Journal that, "The partial government shutdown has matched the longest in modern U.S. history, an impasse of 21 days under President Bill Clinton.
"With no end in sight, the current shutdown entered its 22nd day early Saturday morning, and at day's end will eclipse the shutdown that stretched from Dec. 16, 1995, to Jan. 6, 1996."
Meanwhile, hundreds of thousands of federal employees missed their first paychecks Friday, raising the pressure on lawmakers and the White House to end the shutdown.
The Journal writers pointed out that, "With negotiations unsuccessful, staff at the White House Office of Management and Budget are laying the groundwork for the shutdown to continue through the end of February, according to White House officials who have been briefed on the plans."
And Bloomberg News reported last week that on Thursday, "The Democrat-controlled House passed bills to reopen the Agriculture Department and Food and Drug Administration, as well as the departments of Transportation and Housing and Urban Development. Only 10 Republicans backed the Agriculture bill and 12 GOP members voted for the Transportation-HUD measure."
"Now, the GOP-controlled Senate doesn't plan to vote on any legislation to reopen the government unless Trump promises to sign it," the Bloomberg article said; while adding that: "Negotiations over ending the government shutdown are at a standstill."
USDA Data- Crop Markets
A news release from the USDA in early January stated that, "Due to a lapse in federal funding, work on National Agricultural Statistics Service (NASS) and Office of the Chief Economist – World Agricultural Outlook Board (OCE-WAOB) reports have been suspended since December 22, 2018 and remain suspended.  Given the lead time required for the analysis and compilation of Crop Production, Crop Production-Annual, World Agricultural Supply and Demand Estimates (WASDE), Grain Stocks, Rice Stocks, Winter Wheat and Canola Seedings, and Cotton Ginnings reports, those reports will not be released on January 11, 2019 as originally scheduled even if funding is restored before that date.  The date of all NASS and OCE-WAOB releases will be determined and made public once funding has been restored."
Associated Press writer Scott McFetridge pointed out earlier this month that, "The reports detail the size of the 2018 harvests of corn, soybean, wheat and other crops and give an early estimate for what farmers will plant in the upcoming season."
In his AP article, Mr. McFetridge added: "University of Illinois professor Todd Hubbs, who studies agricultural commodity markets, said he finds the report delays especially frustrating because he thinks they could confirm a belief that the U.S. soybean crop was smaller than earlier forecast. If true, that information would mean a smaller supply and could raise soybean prices, helping farmers who have struggled with low prices worsened by the trade dispute with China."
Financial Times writer Emiko Terazono reported on Friday that, "The January [USDA] reports are also accompanied by quarterly grain inventory data, which impacts trading sentiment. According to recent research by US agricultural economists, the impact of the January reports on crop prices is significant compared to other months and has been increasing over time.
"'We will be missing some of the most important information of the year from the USDA according to our research,' tweeted Scott Irwin at the University of Illinois and one of the authors of the report."
Also Friday, DTN Farm Business Editor Katie Dehlinger reported on that, "With the shutdown dragging on, it's unclear when those [USDA] reports will be released. Some traders, farmers and ranchers aren't worried about the lack of government data, especially given the bearish tendency of recent reports. Some private businesses see the shutdown as an opportunity to highlight their own data and analytic services. Yet others, like University of Illinois agriculture economist Scott Irwin, worry the lack of data will make markets less efficient at achieving one of their primary functions.
'There is damage to the price discovery process in our grain and livestock markets due to the absence of the reports,' Irwin told DTN. 'The question is, is it little or is it big? And the answer to that question really depends on how long the information is delayed.'
"From his conversations with farmers, Irwin said he gets the sense people are delaying decisions, like what to plant and what kinds of inputs they need to buy."
The DTN article noted that, "Larger market participants, like the ABCD grain merchants [ADM, Bunge, Cargill, and Louis Dreyfus Company], often have their own information gathering and collection processes that can give them market insights unavailable to the broader public. 'They now have more of an advantage than when the USDA is doing it in a comprehensive, unbiased manner and making it available to everyone,' Irwin said."
Reuters writers P.J. Huffstutter and Tom Polansek reported on Friday that, "To fill the void on data, traders and farmers are relying on private crop forecasters, satellite imagery firms and brokerages offering analyses on trade and supplies. Some have been scouring Twitter for tidbits on shifting weather patterns and rumors of grain exports, but say it is difficult to replace the USDA."
"Dan Henebry, an Illinois corn and soy farmer, said the absence of USDA data was difficult.
"'You delay all these reports and the market has no idea where to go, other than trade guesses,' Henebry said."
Impacts of Shutdown- Additional Programs
On January 3rd, Reuters writer P.J. Huffstutter reported that, "The USDA's Farm Service Agency (FSA) managers and supervisors were instructed to cancel all previously arranged loan closings when the shutdown started, according to the agency's shutdown plan posted online."
The article noted that, "U.S. grain farmers have been increasingly turning to the FSA for loan assistance as they struggle with low commodity prices and trade issues in recent years. Banks, too, have relied on the agency to help guarantee the loans they are issuing to farmers – particularly for shorter-term farm operational loans."
Milwaukee Journal Sentinel writer Rick Barrett reported on January 4th that, "USDA Farm Service Agency offices, which process farm loans and gather data farmers need to make decisions, are closed…[and]…Some home buyers will wait for mortgages. The USDA provides — through private lenders — mortgages with no down payment requirements and low interest rates and fees to rural and suburban home buyers. It's a small program, nationwide helping just over 140,000 people to buy a home in 2017, but is considered one of the best options around if you're eligible."
A related news release last week from Senator Doug Jones (D., Ala.) stated that, "[Sen. Jones] is calling on the USDA to resume its vital home loan programs that serve residents in rural communities. The programs have been suspended during the ongoing government shutdown."
Meanwhile, Annie Gowen, Jeff Stein and Sean Sullivan reported on the front page of Thursday's Washington Post that, "The Trump administration had promised to help farmers like [Virginia farmer John Boyd], those who suffered as a result of the international trade war after Chinese purchases of soybeans — once 60 percent of the market — plummeted to next to nothing. With farmers on the edge of ruin, the U.S. government offered $12 billion in support since September, checks that had become a lifeline.
"But with the government shutdown moving into its third week, Boyd was left waiting for his support check to arrive. Other farmers who still must have their crop totals approved by the government to receive aid were left with no way to apply for it.
"The delay has been the latest blow to a soybean farming community of more than 300,000 that has suffered steep price declines and bad weather, leaving some to contemplate switching crops for the coming year — or getting out of farming altogether."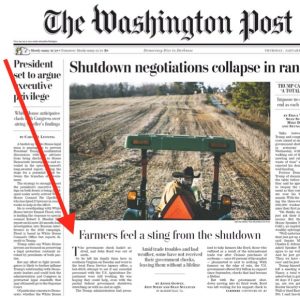 "Farmers Feel a Sting from the Shutdown," by Annie Gowen, Jeff Stein and Sean Sullivan. The Washington Post (January 10, 2019).
The article added that, "U.S. Agriculture Secretary Sonny Perdue said Tuesday that the government would extend the application deadline for support payments beyond the Jan. 15 deadline due to the shutdown, while urging Congress to pass a bill Trump would sign to 'end the lapse in funding so that we may again provide full services to our farmers and ranchers.'"
And Jack Healy and Tyler Pager reported on the front page of Friday's New York Times that, "Farm country has stood by President Trump, even as farmers have strained under two years of slumping incomes and billions in losses from his trade wars. But as the government shutdown now drags into a third week, some farmers say the loss of crucial loans, payments and other services has pushed them — and their support — to a breaking point."
"Farm Country Tightens Belt as Help Ends," by Jack Healy and Tyler Pager. The New York Times (January 11, 2019).
The Times article stated that, "Now, farmers and farm groups say that federal crop payments have stopped flowing. Farmers cannot get federally backed operating loans to buy seed for their spring planting, or feed for their livestock. They cannot look up new government data about beef prices or soybean yields to make decisions about planting and selling their goods in an ever-changing global market."
Also last week, Secretary of Agriculture Sonny Perdue tweeted about the shutdown and the SNAP program (food stamps), food safety, and agricultural research.
Source: Keith Good, Farm Policy News