On Tuesday, the Trump administration announced that some recently announced tariffs on Chinese imports would be postponed until December.  And a report this week indicated that the ongoing trade war continues to be a factor impacting the soybean market.
Wall Street Journal writers Josh Zumbrun, Vivian Salama and Alex Leary reported on Tuesday that, "The Trump administration abruptly suspended plans to impose new tariffs on about $156 billion in goods from China, saying the move was driven by concerns about the impact an escalating trade fight would have on businesses and consumers ahead of the holiday shopping season.
"The shift fueled a rally on Wall Street, sending the Dow Jones Industrial Average up 1.44% to 26279.91.
But it wasn't immediately clear if the retreat marked a significant step toward resolving the more than yearlong trade conflict between the U.S. and China.
"Under the reprieve, the U.S. agreed to postpone until Dec. 15 tariffs of 10% on smartphones, laptops, toys, videogames and other products that were set to take effect on Sept. 1. The value of those goods imported in 2018 was about $156 billion, according to a Wall Street Journal analysis."
The Journal writers added that, "Tariffs on other items, including tools, apparel items and some footwear, will still go into effect on Sept. 1."
Don Lee reported on Tuesday at the Los Angeles Times Online that, "Trump's decision to delay the tariffs was announced by U.S. Trade Representative Robert Lighthizer moments after he talked with China's lead trade negotiator, Vice Premier Liu He. Lighthizer's office said another call was planned in two weeks."
In addition, Bloomberg News reported Tuesday that, "Chinese officials are sticking to their plan to visit Washington in September for face-to-face trade meetings, people familiar with the matter said, signaling that talks remain on track for now despite an abrupt escalation in tariff threats this month."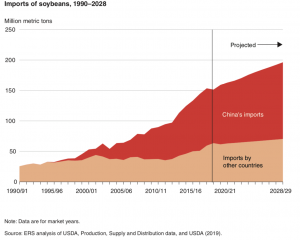 "After rising nearly 65 mmt from 2006 to 2016, China's soybean imports declined during 2018 for the first time in 15 years." (Interdependence of China, United States, and Brazil in Soybean Trade, OCS-19F-01 USDA, Economic Research Service).
The Bloomberg article also stated that, "The U.S. on Tuesday delayed the imposition of some new tariffs after top negotiators spoke on the phone, with President Donald Trumpsaying the encounter was 'very productive,' and that he thinks Beijing wants to 'do something dramatic' to end the impasse.
"That said, Chinese negotiators are not very optimistic of any imminent progress, one of the people said. Officials are unlikely to make concessions in the run up to October 1, the celebration of the 70th anniversary of the founding of the People's Republic, the person said."

Donald J. Trump✔@realDonaldTrump
As usual, China said they were going to be buying "big" from our great American Farmers. So far they have not done what they said. Maybe this will be different!
Also Tuesday, Washington Post writers Damian Paletta and Heather Long pointed out that,
The announcement is the latest in a herky-jerky trade war between the White House and China.
"Trump has levied tariffs on $250 billion in Chinese imports, beginning last year, as he has tried to pressure Chinese leaders to change their trade practices. Chinese officials have negotiated but refused to agree to the terms Trump has demanded, leading to a prolonged standoff."

.@brianneDMR says Iowa farmers still support Pres. Trump on trade:
"These farmers say that something needs to be done about China… they question is how long can they hold out because this is becoming a problem for their bottom line. They are losing money"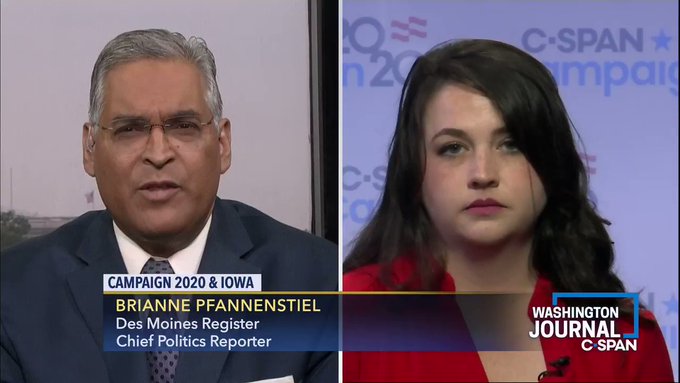 Meanwhile, Donnelle Eller reported on the front page of Monday's Des Moines Register that, "Iowa farmer Lindsay Greiner no longer uses 'dispute' to describe escalating trade tensions between the U.S. and China.
"'I've tried to avoid calling this a war, but that's what it really is. It's not going to be resolved anytime soon,' said Greiner, who raises corn, soybeans and pigs near Keota.
"China said this month it would no longer buy American farm goods, deepening concern that a new trade deal could take months, if not years, to resolve."
It was unwelcome news for Iowa and U.S. farmers, already facing spring flooding that kept many from planting crops, adding to struggles with low prices and growing supplies of corn, soybeans, pork and milk.
The Register article added that, "President Trump tweeted [last] Tuesday he could be counted on for continued trade assistance. His administration is sending out $16 billion in aid this year, following last year's $12 billion trade bailout."

Donald J. Trump✔@realDonaldTrump
As they have learned in the last two years, our great American Farmers know that China will not be able to hurt them in that their President has stood with them and done what no other president would do – And I'll do it again next year if necessary!
In its August Oilseeds: World Markets and Trade report on Monday, the USDA's Foreign Agricultural Service (FAS) indicated that, "From the 10 years prior to 2018/19, global soybean exports nearly doubled in volume with annual growth averaging 7.5 million tons. Much of this growth was centered on China where import growth averaged 5.6 million tons annually, accounting for nearly 80 percent of soybean trade growth. With the arrival of African Swine Fever in China in mid-2018 along with the ongoing trade dispute, a steady decline in China's soybean import volume has been observed with imports currently forecast to reach 83 million tons in 2018/19, 11 million tons below 2017/18. If not for the increase in demand from other markets, spurred in part by lower prices, the current trend in global soybean trade would have turned negative."

Oilseeds: World Markets and Trade. USDA- Foreign Agricultural Service (August 2019).
The FAS update stated that, "Consequently, this slowing demand, coupled with large crops and stock building has led to soybean prices running 10 percent below even a few years ago. Given the potential for slow demand growth in China, rising soybean production in Brazil, and extensive stocks primarily in the United States, the prospect for soybean prices again approaching $10/bu ($370/ton) is greatly diminished."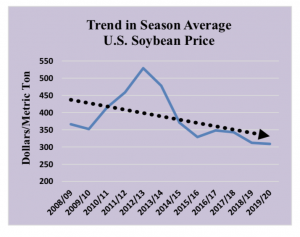 Oilseeds: World Markets and Trade. USDA- Foreign Agricultural Service (August 2019).
In addition, Bloomberg writers Isis Almeida, Mike Dorning, and Mario Parker reported on Tuesday that, "American farmers already stung by President Donald Trump's trade wars now face billions of dollars in potential losses as controversial data from the U.S. government snuffs out a rally in corn.
"The Agriculture Department on Monday said farmers planted a bigger corn area than analysts estimated and pegged crop yields that also exceeded expectations, sparking the biggest rout in futures since 2013. That was a blow to growers who were holding back supplies, hoping a rally that started in May due to delayed sowing would extend through the fall."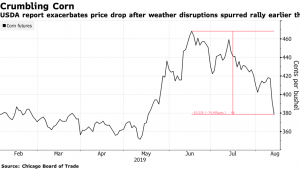 "U.S. Farmers Stung by Tariffs Now Face a $3.5 Billion Corn Loss," by Isis Almeida, Mike Dorning, and Mario Parker. Bloomberg News (August 13, 2019).
The Bloomberg article added that, "The decline represents a potential loss of almost $3.5 billion for U.S. farmers, according to the American Farm Bureau, and is another setback for them after prices fell following the USDA's previous acreage report, which was widely criticized for containing outdated data."
Source: Farm Policy News